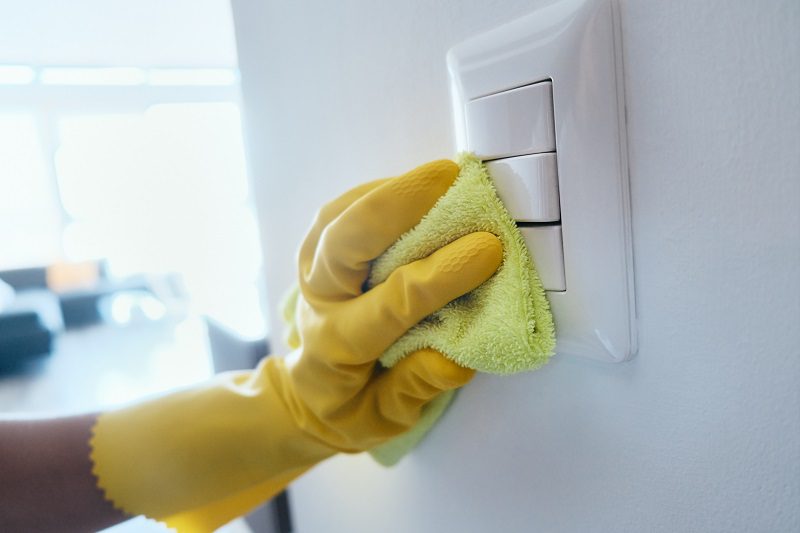 You're wearing the same clothes in public and inside your home
Same as shoes, the clothes you wear in public can harbor potentially dangerous viruses. "When you're in the house and lay down on the couch, you have now cross-contaminated," explains Mahoney. Although "clothing is usually more of a mesh than a hard surface, which could potentially aerate the environment more readily," according to Dr. Kathleen Jordan, an infectious disease specialist and vice president at CommonSpirit Health, you're never too extra when it comes to preventive measures against COVID-19.
In terms of clothes, it means you might need to do a little more laundry than usual, but most household detergents are enough to do the job. Speaking of going out in public, check out 7 Things You Shouldn't Do in Public, According to Doctors.

You're using the same cleaning cloth on every surface
Clothing rags are instrumental for cleaning, they're easy to use and wash. "Microfiber tools are made to attract and capture up to 99 percent of dirt, bacteria, and other pathogens, while cotton fiber tools are made to attract 33 [percent]," explains cleaning expert Sean Parry, director of U.K.-based home cleaning company Neat Services.
The downside is that most people use the same cloth to clean almost every surface in the house. During a pandemic, this might not be the best approach to keeping bacteria and viruses at bay. Find out what other Health Risks You Need to Stop Taking Amid the Coronavirus Pandemic.